For a small house holder what are the basic needs? Is it internet? Mineral water? or Bitcoin?. the answer is NO. 
People living in rural areas are still fighting with three basis needs;
For this, people are working Day & Night. First they arrange House, then food & after that if possible light. When we go to the deepest area of India we found after 70 years of independence people are facing big problem with electricity. Even in some areas electricity is just a word-Remembering the famous scene of a Bollywood movie SWADES "Bijili"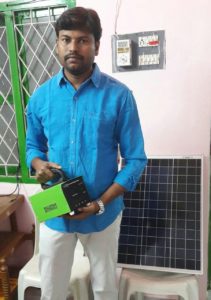 Here we are talking about the contribution of one of the leading manufacturing company of Solar Home Lighting Systems "Green Village Power" to lighting up Indian villages with their unique solar power solutions specially designed for rural market.
If we are providing Solar light to the villages we are undoubtedly covers following points;
Easy to do home activities after sun set.
Children can read/write/learn in the dark nights.
In the early morning there will be more security of women
Independent Power
Kits for solar home lighting give people respite from being dependent on companies that provides power. Harnessing energy of the sun to illuminate homes, schools, and streets is beneficial to the environment and to pockets of people. India has a wide scope of using solar energy to fulfill its growing energy demands.
Make your home a place where the sun never sets! A solar home lighting system may sound to be an expensive and cumbersome affair initially; but companies that deal with it also send experts that help you install the system. You spend money only once. Thereafter, your electricity is free of cost. Solar power makes you feel closer to nature.
Micro Finance companies ( MFIs) and CSRs are also involved in this area and helping SMEs by investing in solar power.